Alpha Annual Meeting
Hall Of Fame Ceremony
Special Events
October 28-30, 2022
UMD / Duluth



Join us for a wonderful weekend in Duluth
Alpha business and social events for members and significant others to renew ties to UMD and Alpha

Hall of Fame Inductions

Laugh with old brothers and meet our new members

Join old and new traditions

Find out what is happening
We have rooms blocked off for Alpha Nu Omega Alumni at the Sheraton Duluth Hotel for Friday 10/28 and Saturday 10/29 for Alpha rate of $189 per night. 
These must be booked by September 28 to get this rate:



Some of last year's events:
Hall of Fame Inductees


Meet and Greet
 


Alumni Meeting and Tailgating


Kitchi Gammi Club
UMD Hockey Game



These are the weekend highlights
Alpha Annual Meeting

Election of new Officers and Board

Updates to the Alpha Scholarship Initiative and the progress in fundraising in the last year

Representatives from the University to discuss our continued relationship to the campus 

Introduction of this year's actives and pledges with an update on their status

A Hall of Fame induction of new members who have contributed significantly to the success of the Alumni Association.  

UMD Football and Men's Hockey games

Meet the active chapter and their pledges

Cocktails / Dinner at the Kitchi Gammi Club

Renew the bonds of brotherhood



Updated Schedule





Friday October 28
Welcome Cocktail Reception at the Sheraton (5:00 PM)

Social Dinners with other members

UMD-Cornell Hockey Game at Amsoil Arena 7:00 PM $25 (Go or watch)

We will be sending out a request for for tickets for Friday and/or Saturday
Saturday October 29
Alumni meeting at UMD Griggs Center (Kirby) 9:00-10:30 AM

Elections

Alumni Assn and Active Chapter Updates

Campus Update

Scholarship status

Hall of Fame Ceremony

Football Game ($12/$8 senior) at Griggs Field  12:00-2:30 PM
Cocktail Party at the Kitchi Gammi Club  5:00-6:30 PM
Dinner at the Kitchi Gammi Club or Duluth restaurants
UMD-Cornell hockey Game at Amsoil Arena 7:00 PM $25 (Go or watch)
Sunday October 30
We look forward to seeing everyone in Duluth this fall!
Here is a link to a registration form for the Alpha Fall Weekend:
———————————————————————————
Alpha Scholarship Awards Banquet
April 23, 2022
The first annual Alpha Scholarship Awards Banquet was held in Duluth at the Fitger's complex on April 23, 2022. The banquet was attended by 41 Alumni, Actives and their guests.
Scholarship Awards
$10,000 in scholarships was presented to three highly qualified actives by Scholarship Committee Chairman Chad Roberts and President Jeff Gaylord:
Marcus Young – John L. Banks III Memorial Scholarship $3,333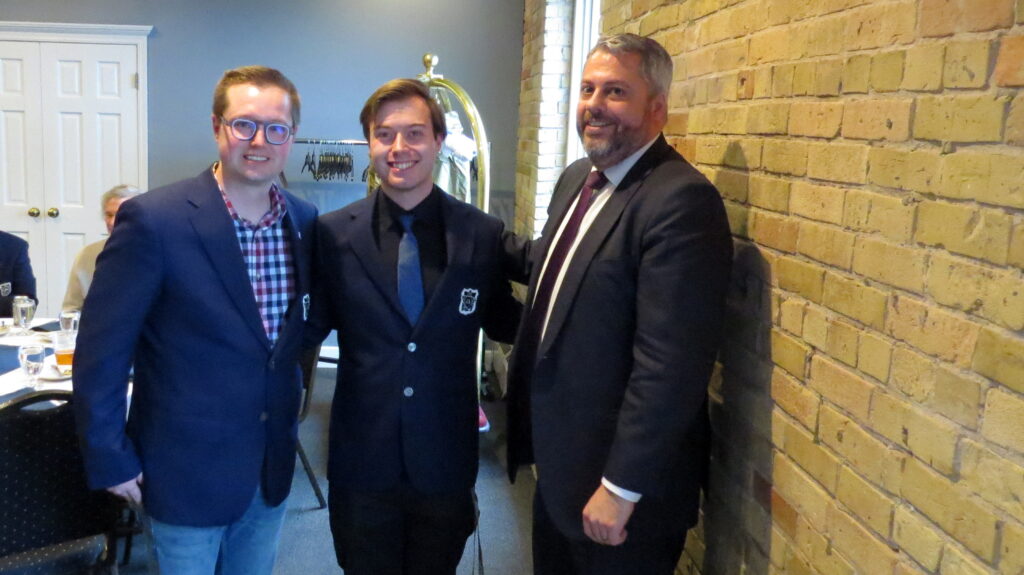 Marcus is the new chapter president
Jacob Schwaab – Daryl Brooks Knodt Memorial Scholarship $3,333
Jacob is the new treasurer
Ben Churchill – John L. Banks III Memorial Scholarship $3,333
Ben is the new secretary
Order of the Blue and White Forever Inductees
Three new members were inducted into the "Order of the Blue and White Forever" for their significant donations to the Alpha Nu Omega Alumni Association Scholarship Fund. They previously received blazers from John Erickson and were honored with the distinguished pin of the order and their names will be added to the plaque of honor in Kirby Student Center:
Previously inducted John Erickson also received his pin
New Members Blazer Presentation
Alpha blazers were presented to eight of this year's new members courtesy of John Erickson and his "Bring Back Blue Blazers" initiative:
Here is a photo of the Active Chapter with their blazers
Video Slideshow
A video slideshow of the banquet can be seen by clicking on the following link:
New Active Chapter Executive Board Elected
President – Marcus Young
Vice President – Broderick Aspling
Pledgemaster – Andrew Strapko
Secretary – Ben Churchill
Treasurer – Jacob Schwaab.
They will start to take over this semester, and fully take over in the fall of 2022. 
Mini-Reunion and Hall of Fame Weekend
October 15-17, 2021
It was generally agreed that our Mini-Reunion/Hall of Fame weekend at UMD's Homecoming was a great success. There was something for everyone from a meet and greet with old brothers, an informative meeting, tailgating, football, Hall of Fame induction, formal dinner at the Kitchi Gammi Club and a winning UMD hockey game. A video slideshow of the activities can be seen here:
Funding the Future
The Alpha alumni who attended our recent mini-reunion saw the kickoff of the "Funding the Future" scholarship program presented by alumnus Scott Schnuckle.  Since then a number of members have asked how specifically they can get involved with this effort to make the Alpha Alumni Association Scholarship Fund meaningful in today's scholastic world.  We know that each member has different motivations and means, but the spirit of Alpha runs through us all.
Here is a 3 minute video of Scott's PowerPoint presentation:
This program has been undertaken to make up for the insufficient increase over the years in our Scholarship Fund that provides interest money and associated funds for presentation to our deserving active members. Up until the end of last year the fund provided less than half the goal of a year's tuition and books at UMD because educational expenses have increased significantly.
While the kickoff for the "Funding the Future" program was officially begun at the Fall 2021 mini-reunion meeting, early donors have stepped up with significant contributions that, coupled with strong market earnings. have significantly increased the Fund from $100k to $185k. Our goal is $250k and it is attainable. We are already getting additional responses. The program goes to Spring of 2023 so we can do this if everyone help.
We understand that many members do not have large sums of money while raising young families or working for their own goals, but we ask that you consider a donation even if it is only in the form of dues. Those that have already received an Alpha scholarship have an extra motivation.
We ask that you go to our Scholarship Donation page on this website to find a convenient way to donate large or small to "Funding the Future". Ways to pay dues (which largely go to the Scholarship Fund) are also on the site.
Active Chapter Thanks Video
The Alumni Association thanks those who have made significant donations to the Scholarship Fund. The Alpha Scholarship program is recognized by our Active Chapter as a significant benefit both to its members and the prestige of the Fraternity. Here is a short video that the Actives made to express their gratitude to the Alumni Association and its donors to the Scholarship Fund: