Alpha Annual Meeting
Hall Of Fame Ceremony
Special Events
October 28-30, 2022
UMD / Duluth
The Alpha Nu Omega Annual Meeting Weekend in Duluth (October 28-30) has concluded with great success.  Starting Friday night October 28 with a meet and greet at the Sheraton Duluth Hotel and a UMD-Cornell hockey game, a full day of events on Saturday (Well attended annual meeting with Hall of Fame induction, football game, cocktails and dinner at the Kitchi Gammi Club), and a farewell breakfast on Sunday. We appreciate all those who attended the festivities.
Here is a short video slideshow of the weekend events:
Special thanks for the weekend events go to president Jeff Gaylord for securing hotel accommodations, purchasing HOF award plaques and conducting our meeting and the Hall of Fame presentation, the Alumni Board (Jeff Gaylord – president, Jason Golde – treasurer, Jim Klang – Secretary, Jim Main, Gary Gilchrist, Les Nelson, Laird Goodman, Scott Schnuckle, John Erickson and Isaac Winter) for input and support and Huck Andresen for arranging cocktails and dinner at the Kitchi Gammi Club.  Thanks also goes to the Scholarship Fundraising Committee (Jim Klang, John Erickson, Scott Schnuckle, Jason Golde) who worked very hard all year to further the "Funding the Future" plan and secure contributions.  We also need to thank Rob Hofmann from UMD's Development Office who unveiled an update to the Order of the Blue & White Forever plaque and made a short presentation on processes to support our Scholarship Fund initiative.  And, finally, thanks to the lovely significant others who joined us for the various social events.
It was a pleasure to meet the current actives and their new pledges who provided assistance in several areas and participated in our events. This is a dynamic organization with quality members who will continue to add to Alpha's legacy.
And a special thanks goes to John Erickson who has continued to conduct a "Bring Back Blue Blazers" program in which he has personally purchased Alpha blazers for the Actives, HOF members and the Alumni of the "Order of the Blue & White Forever" who have donated $5000 or more to the Alpha Alumni Scholarship Fund.

The following is a recap of the our Annual Meeting with the Hall of Fame Induction Ceremony

Hall of Fame Induction
John Erickson and Jim Klang
Active Chapter Status Report (President Marcus Young)
The active chapter has 12 members plus 6 pledges (2nd most on campus)

Good financial shape

They doing a variety of social activities and service projects

Have a "house" where several members stay

Participate in sober cab

Sponsor a ball to raise charity money

The Greek Life organization is in transition with new leadership
Alumni Status Report (President Jeff Gaylord)
Trying to do events every 3-4 months

Spring scholarship banquet

Hockey games

Summer cabin (Jason Golde)

Golf

Fall meeting/Hall of Fame with Kitchi Gammi
A new Board of Directors was voted in for 3 year terms by a white ballot focusing on new younger members
VOTING BOARD MEMBERS
President – Jeff Gaylord

Secretary – Jim Klang

Treasurer – Jason Golde

Scott Schnuckle

Isaac Winter

Ben Staub

Jordan Herzog
ADVISORY BOARD MEMBERS
John Erickson

Gary Gilchrist

Les Nelson

Dick Schwab

Augusto Kono
Treasurer's Report (Jason Golde)
Jason giving Rob Hofmann of the UMD Development Office
$5000 for the Alpha Scholarship Fund
Scholarship Report (Scott Schnuckle)
The Alumni Association has awarded $10,000 in scholarships this year to three members

The fund under the University of Minnesota Foundation has lost some ground because of the market decrease but still has nearly $200,000 with our last donation
Rob Hoffman unveiling updated Order of the Blue & White Forever plaque
featuring those donating $5000 or more to the Alpha Alumni Scholarship
on display in the Kirby Student Center
———————————————————————————
Alpha Scholarship Awards Banquet
April 23, 2022
The first annual Alpha Scholarship Awards Banquet was held in Duluth at the Fitger's complex on April 23, 2022. The banquet was attended by 41 Alumni, Actives and their guests.
Scholarship Awards
$10,000 in scholarships was presented to three highly qualified actives by Scholarship Committee Chairman Chad Roberts and President Jeff Gaylord:
Marcus Young – John L. Banks III Memorial Scholarship $3,333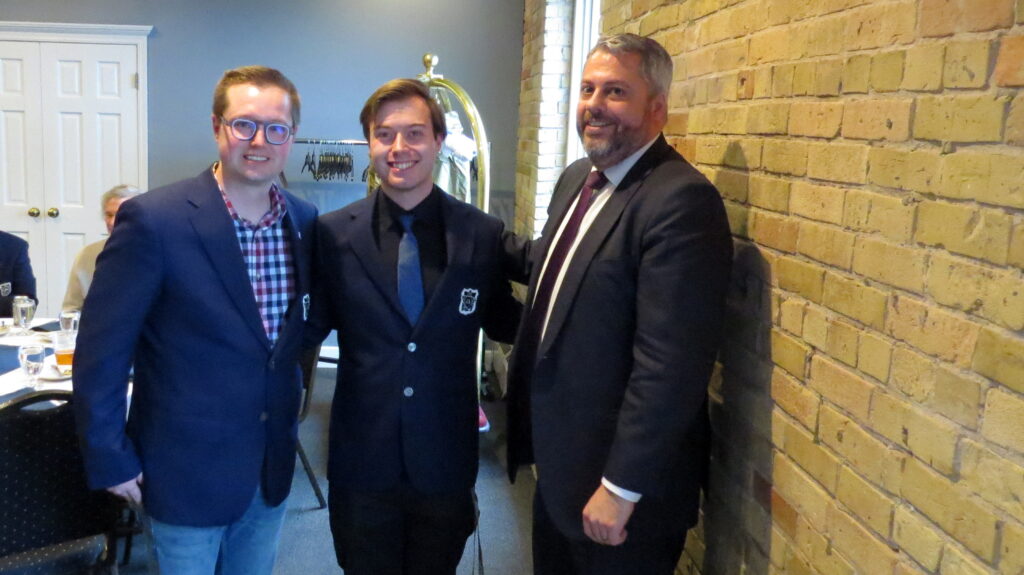 Marcus is the new chapter president
Jacob Schwaab – Daryl Brooks Knodt Memorial Scholarship $3,333
Jacob is the new treasurer
Ben Churchill – John L. Banks III Memorial Scholarship $3,333
Ben is the new secretary
Order of the Blue and White Forever Inductees
Three new members were inducted into the "Order of the Blue and White Forever" for their significant donations to the Alpha Nu Omega Alumni Association Scholarship Fund. They previously received blazers from John Erickson and were honored with the distinguished pin of the order and their names will be added to the plaque of honor in Kirby Student Center:
Previously inducted John Erickson also received his pin
New Members Blazer Presentation
Alpha blazers were presented to eight of this year's new members courtesy of John Erickson and his "Bring Back Blue Blazers" initiative:
Here is a photo of the Active Chapter with their blazers
Video Slideshow
A video slideshow of the banquet can be seen by clicking on the following link:
New Active Chapter Executive Board Elected
President – Marcus Young
Vice President – Broderick Aspling
Pledgemaster – Muneer Hasan
Secretary – Ben Churchill
Treasurer – Jacob Schwaab.
Funding the Future
The Alpha alumni who attended our recent mini-reunion saw the kickoff of the "Funding the Future" scholarship program presented by alumnus Scott Schnuckle.  Since then a number of members have asked how specifically they can get involved with this effort to make the Alpha Alumni Association Scholarship Fund meaningful in today's scholastic world.  We know that each member has different motivations and means, but the spirit of Alpha runs through us all.
Here is a 3 minute video of Scott's PowerPoint presentation at the annual meeting in 2021:
This program has been undertaken to make up for the insufficient increase over the years in our Scholarship Fund that provides interest money and associated funds for presentation to our deserving active members. Up until the end of last year the fund provided less than half the goal of a year's tuition and books at UMD because educational expenses have increased significantly.
While the kickoff for the "Funding the Future" program was officially begun at the Fall 2021 mini-reunion meeting, early donors have stepped up with significant contributions that, coupled with strong market earnings. have significantly increased the Fund from $100k to $185k. Our goal is $250k and it is attainable. We are already getting additional responses. The program goes to Spring of 2023 so we can do this if everyone help.
We understand that many members do not have large sums of money while raising young families or working for their own goals, but we ask that you consider a donation even if it is only in the form of dues. Those that have already received an Alpha scholarship have an extra motivation.
We ask that you go to our Scholarship Donation page on this website to find a convenient way to donate large or small to "Funding the Future". Ways to pay dues (which largely go to the Scholarship Fund) are also on the site.
Active Chapter Thanks Video
The Alumni Association thanks those who have made significant donations to the Scholarship Fund. The Alpha Scholarship program is recognized by our Active Chapter as a significant benefit both to its members and the prestige of the Fraternity. Here is a short video that the Actives made to express their gratitude to the Alumni Association and its donors to the Scholarship Fund: