The Alpha Nu Omega Alumni Association is organized primarily for education and scholarship purposes as provided for under Section 501(c)(3) of the Internal Revenue Code. The Alumni Association provides scholarships to active members of the fraternity. An endowment fund supported by our membership has been created to assist the organization with long term funding of these programs. Recipients are selected on the basis of academic success, fraternity participation (fraternity and campus/community service) and need. The emphasis of these selection criteria varies with each award program.
The Alpha Nu Omega Alumni Association Scholarship Fund has been created by formal agreement with UMD and ratification of this agreement by the University Of Minnesota Foundation.  The endowment fund for this scholarship is administered by the University of Minnesota Foundation.  The fund is invested in accordance with the investment principles of the University of Minnesota Foundation for endowment funds and grows along with donations from members of the Alumni Association and fund investments.  Each year a set percentage of the Alpha Fund is allocated for scholarship purposes in accordance with this agreement.
The University also established the Reaching Higher Scholarship Program, which adds a significant additional fixed amount to the Fund.  The combined annual payout made available for scholarship distribution from the Alpha Nu Omega Alumni Association Scholarship Fund is determined by the Foundation's Spending policy as defined by its Board of Trustees. To date over $120,000 in scholarships have been rewarded.  The Fund interest and Reaching Higher contribution have not kept up with tuition cost and needs to expand through significant donations from our membership.  The Alumni Association is currently in an aggressive program to significantly increase the Fund to get meaningful  scholarship awards.
Three separate scholarships have been created with different selection criteria:
THE JOHN L. BANKS III MEMORIAL SCHOLARSHIP
On March 29, 1966, John L. Banks died when his C-130 crashed in Vietnam. John exemplified the achievement of Alpha's objectives: academic success, active participation in the fraternity and other organizations and a strong personal allegiance to his Brothers. Following his death, the Alumni Association named the "John L. Banks Memorial Scholarship" in his honor.
THE DARYL B. KNODT MEMORIAL SCHOLARSHIP
In the years that followed, alumni became increasingly sensitive to the extra efforts of some Alphas who have worked hard for the fraternity and were in need of financial assistance to continue their efforts. This scholarship was added in 1977 with an emphasis on fraternity participation and need. The scholarship was named for Daryl Brooks Knodt, a very active and loyal member of Alpha who died in a car accident on December 21, 1968. Brooks was a former president of Alpha and beloved brother. His contributions to the fraternity have been memorialized by the establishment of the Daryl B. Knodt Memorial Scholarship.
THE WARREN F. ORRICK MEMORIAL SCHOLARSHIP
During the 1960s, Alphas were often involved in many fraternity, school and community activities. One of the more active was Warren "Butch" Orrick. Always eager, Butch provided the motivation (and often the "place") for the next event. Butch died on July 14, 1990. In respect for Butch's high level of participation and academic success, the Warren F. Orrick Memorial Scholarship has been created.
2022-23 SCHOLARSHIP RECIPIENTS
We are pleased to report our scholarship recipients for 2022-23. Selections were made by the Alpha Scholarship Committee under Chairman Chad Roberts and President Jeff Gaylord:
Marcus Young – John L. Banks III Memorial Scholarship $3,333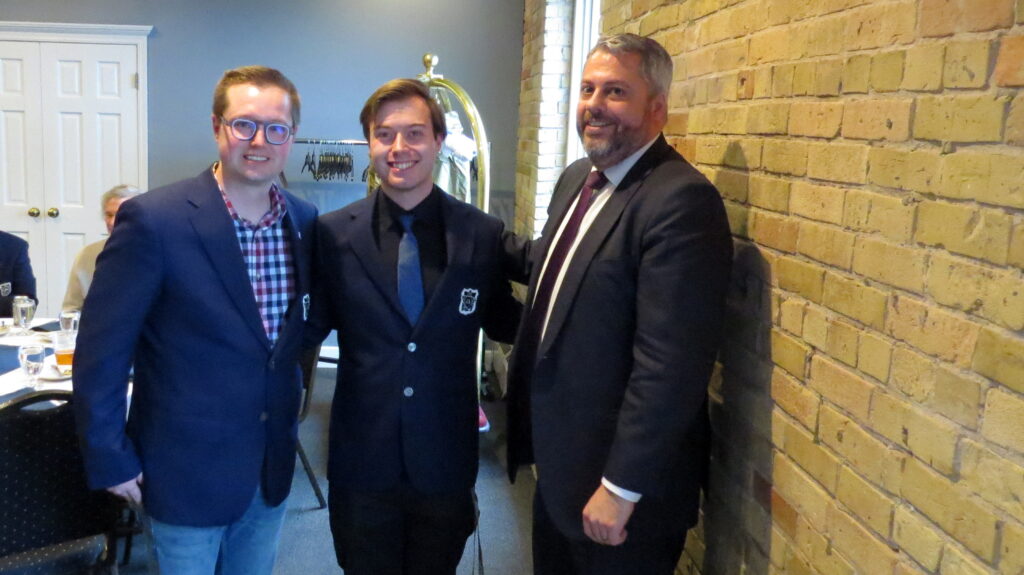 "The Alpha Nu Omega Alumni Association Scholarship is an amazing gift and opportunity to the active chapter members of the Alpha Nu Omega Fraternity. The financial burden of tuition is something that many students stress over, including myself. My family is unable to financially support me when it comes to tuition and coming up with the money through private loans or out of pocket has always been a stressful process for me.
Winning this scholarship has helped put my mind at ease in many ways. First and foremost, the aforementioned stress of paying tuition for the next year is greatly subsided. Second, since most of the expenses for the next year are covered, I can put more of my energy and time into school and the fraternity which will in turn help my grades and aid in expanding the fraternity into an even better organization."
Jacob Schwaab – Daryl Brooks Knodt Memorial Scholarship $3,333
"My name is Jacob Schwaab. I am a Mechanical Engineering student at UMD. It is with great pride that I accepted the Daryl B. Knodt Memorial Scholarship. Alpha Nu Omega is the only fraternity at UMD that awards scholarships to its members. This wouldn't be possible without the support of the Alpha Nu Omega Alumni Association. ANO's alumni association does an incredible job of supporting the active chapter. It has been a privilege getting to know fellow brothers of the organization that have come before me. Alpha Nu Omega has become a wonderful influence in my life. With the support and camaraderie given to me by both the active chapter and alumni I have bettered my academic and social skills. The Daryl B. Knodt Memorial Scholarship is a great help to my success at UMD.
The funds granted to me through The Daryl B. Knodt Memorial Scholarship will go towards helping me pay for the final steps of my Mechanical Engineering degree. I have around a year and a semester left of school before I graduate from UMD. The Scholarship will greatly lower the final burden of obtaining the last credits of my degree. The scholarship will have a profound impact on my future allowing me to graduate with only a small amount of student loans. The wonderful generosity of the Alpha Nu Omega Alumni Association is helping me jumpstart my future and opening the door for wonderful opportunities in the succeeding years.
To all my brothers in the Alpha Nu Omega Alumni Association, I thank you for your kindness and generosity. Without you none of this would be possible. I feel privileged to have gotten to know you and hope to someday repay the kindness you have shown me."
Ben Churchill – John L. Banks III Memorial Scholarship $3,333
"Winning an Alpha Nu Omega Scholarship will be an immense help for me in my future endeavors! Being able to save money from obtaining my degree will allow me to better pursue some of my passions in music, such as being a freelance performer and opening my own private music studio. It will help me to buy a home sooner, allowing me to more easily start a family. It will alleviate some financial pressure upon graduation, allowing me to more easily make the difference I want to make in the world of business. Lastly, it will free up time that I would otherwise have spent working to give back to the community through volunteering efforts and music creation.
This scholarship is so much more than money though, it represents years of brotherhood, dedication, and a strong passion for giving back. It represents the shared vision that our great Fraternity was founded on, that of molding college men into gentlemen. Gentlemen that give back, care for each other, and want what's best for those around them. Selfless Gentlemen that want to make a difference in the world and the gentleman that have already made a huge impact. I am proud to be a part of an organization that strives to better those who join it and am honored to be a recipient of this scholarship. Receiving it only reinforces these beliefs and shows me that the future is bright for incoming Alphas, actives, and alumni alike. I am proud to be an Alpha. I hope to give back to Alpha Nu Omega in the future and to continue on its legacy."